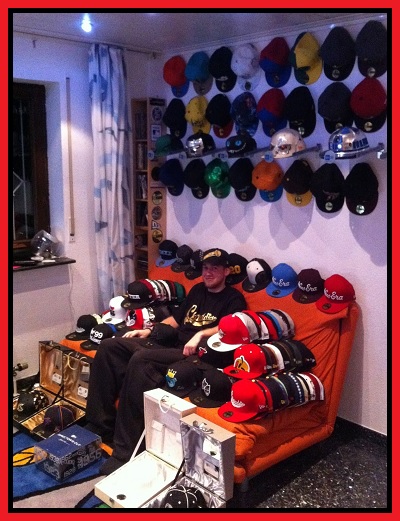 In der vierten Ausgabe unser Reihe "Who is Who – Collectors Edition" stellt sich euch unserer Autor Capes vor.
Angefangen habe ich 2007 mit einem weiß/grünen San Diego New Era 5950 Fitted, welches ich mir in einem LIDS Store in San Diego kaufte. Dieses Cap habe ich lange getragen bevor ein neues hinzu kam. Leider hat es dem entsprechende Tragespuren.
Bis der Wahnsinn richtig los ging vergingen etwa 1 1/2 Jahre. Mein zehntes Cap habe ich mir im New Era Store Berlin gekauft. Als ich etwa 15 bis 20 Caps hatte wurde ich bereits von Freunden und Bekannten belächelt. Angetrieben hat mich damals eine Gruppe in SchülerVz (ja es gab eine Zeit vor Facebook :D). Dort gab es eine New Era Gruppe in der sich alle mit ihren Caps brüsteten (der König war schon damals, wie sollte es auch anders sein Mr. Capaddict himself Hannes), so entstand ein Wettkampf wer mehr hatte.
Mein 50 cap war das James Stewart Capture the Flag Cap.
Im Januar 2011 kaufte ich mein 100 Cap, es war das Fat Joe Terror Squad Capture the Flag Cap. Ein persönliches Highlight war, dass meine Capsammlung in unserem Abifilm zu sehen war, was für viele Lacher auf dem Abiball sorgte und meiner Stufe gleichzeitig das Ausmaß meines "Wahnsinns" verdeutlichte. Das Jahr 2011 war auch der bisherige Höhepunkt meines Capwahns, ich verdoppelte in weniger als einem Jahr und schenkte mir mein 200 Cap, das Kool Savas Capture the Flag Cap, selbst zu Weihnachten . Im März 2012 beim Stand von etwa 220 Caps ließ ich mir ein Fitted Cap auf die Wade tätovieren. Heute Besitze ich etwa 290 Caps. Mein 300 Cap möchte ich mir bei der Store Eröffnung in Frankfurt zu kaufen. In meiner Sammlung befinden sich ausnahmslos New Era 5950 Fitted Caps. Mein persönliches lieblings Cap ist ein Weihnachts Cap das mir Olli Banjo, welcher uns auch ein geniales Shout out gemacht hat, nach einem Auftritt schenkte. Mitglied des Capaddicts Teams bin ich seit Dezember 2010. Ich hoffe euch hat dieser kleine Einblick gefallen.
Wenn auch ihr eure Sammlung präsentieren wollt schickt uns einen Text mit Bild in dem ihr eure Sammelleidenschaft beschreibt. Unter den ersten 10 Teilnehmern verlosen wir ein Capaddicts.com Shirt.