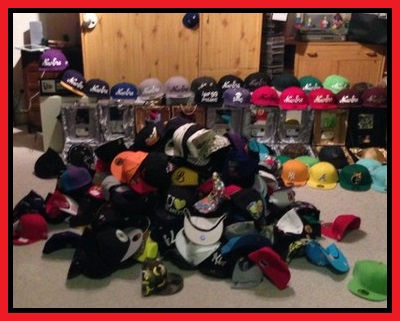 Heute zeigen wir euch die Sammlung von Norbert. Diese Sammlung hat es, gerade wenn man bedenkt das sie erst 2009 gestartet wurde auf jeden Fall einiges zu bieten. Wir freuen uns euch die Sammlung in einer neuen Ausgabe von
Who is Who – Collectors
Edition präsentieren zu können.
"Mein erstes New Era Cap hatte ich erst 2009. Da dachte ich  mir versuche es mal mit Cap´s. Vorher hatte ich noch nie welche getragen und da dachte ich mir, ich probiere es einfach mal mit einem New Era Cap. Dies sollte sich dann auch als die absolut richtige Entscheidung herrausstellen wie wir alle wissen. Mein erstes Cap war ein lilanes New York Yankees 59Fifty Cap. Kaum war es da, wollte ich es gar nicht mehr absetzen.
Dann musste ein 2. her da lila sich nicht als Alltagstauglich erwies, also hatte ich bei ebay ein grünes blank gefunden und sofort gekauft. Grün war schon immer meine Farbe.
Es wurden nach und nach immer mehr und im September 2010 war ich ich in Berlin zur IFA und dachte wenn ich schon mal da bin, dann ab in den New Era Flagship Store. Mein Kumpel musste da durch, obwohl er selbst kein Capträger ist. Für mich war es das Paradies, allerdings kaufte ich an dem Tag nur 2 Stück (Ich hatte die Berlin Wall net gesehen)

.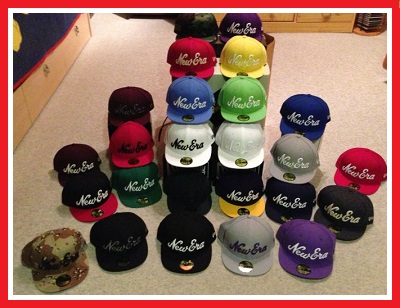 Dann kamen noch mehr Caps dazu, auch durch den Blog Capaddicts.com und im Dezember 2010 hatte ich dann schon die stolze Zahl 100 erreicht. Aber das war mehr Zufall. Denn es war mein zweiter Besuch im Berliner Flagship Store. Auch Nummer 200 kaufte ich dort. Die 300 war dann das Support Your Local Hustler Cap von Expensive Taste und New Era. Es war ein auf 144 Stück limitiertes Remake von Justfitteds. Bei der 400 lasse ich mich überraschen, vielleicht wird es ein Cap aus dem am 1.08.2013 eröffnenden New Era Store in Frankfurt am Main.
Ein Teil meiner Sammlung der mir besonders am Herzen liegt ist die große NE Script Kollektion die ich mein Eigen nennen kann. Ich hole mir jedes Modell der Reihe. Außerdem besitze ich bisher 9 Capture the Flag Caps, die ich mir aus den USA schicken lassen habe.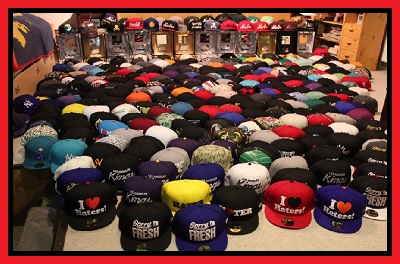 Ein lieblings Cap hab ich auch, es ist schlicht, aber ich liebe es. Es ist ein Berlin Flagship Store Exclusive. Der Berliner Bär mit dem Cap auf dem Kopf. Besonders gefallen tut mir aber auch mein MC HotDog Capture the Flag Cap.
Meine Nummer 500 liegt zwar noch etwas weiter entfernter Zukunft, aber ich möchte sie mir in New York kaufen. Diese Stadt wollte ich schon immer besuchen, wer weiß, vielleicht hole ich es mir ja sogar im New Era Flagship Store in New York."
Wir bedanken uns bei Norbert für den Einblick in deine Sammelleidenschaft. Du hast natürlich auch die Chance auf ein Capaddicts.com Shirt. Denn unter den ersten 10 Einsendungen (eigene Autoren ausgeschlossen) verlosen wir ein extra auf euer Cap abgestimmtes Shirt