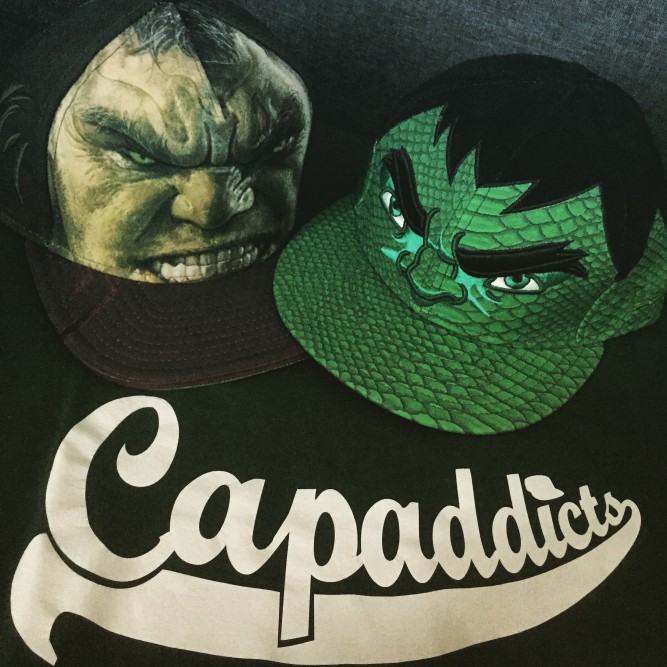 Selten wurden zwei Kollektionen so sehr verglichen, wie die neuen Avengers Big Face Caps von New Era und Marvel. Ich selbst habe mir bisher ein Cap aus der europäischen und eins aus der amerikanischen Kollektion zugelegt. Zwei Caps zu dem Charackter Hulk, welche unterschiedlicher kaum sein könnten. Zu einem das schuppige Hulk 59Fifty Cap aus der EU Reihe auf der rechten Seite in knalligem grün und zum anderen auf der linken Seite das A-Frame Fitted mit detailiertem Fotoprint aus den USA, welches ich mir bei Superherostuff besorgt habe. Das A-Frame Fitted ist grandios verarbeitet und es wurden Elemente verwendet, die so noch bei keinem mir bekanntem Fitted genutzt wurden und wohl auch noch nie so angebracht waren wie hier. Von A-Frame kann man halten was man möchte, aber bei diesem Cap wurde die Falte beim überlappen der Frontpanels dazu verwendet, die Zornfalte auf Hulksstirn hervorzuheben. Auch Nase und Augen wurden so gestaltet, dass sie sich von der Krone abheben und außerdem leuchten die Augen im dunkeln. Einfach hervorragend. Die Front ist toll verarbeitet und die Stirnfalten wurden auch noch extra eingebunden, über den A-Frame Schnitt hinaus. Es wurden quasi ein komplett neues Profil geschaffen. In diesem Beitrag gehen wir größtenteils auf den US Release ein, da es bereits einen Artikel über den europäischen Hulk gab (hier klicken).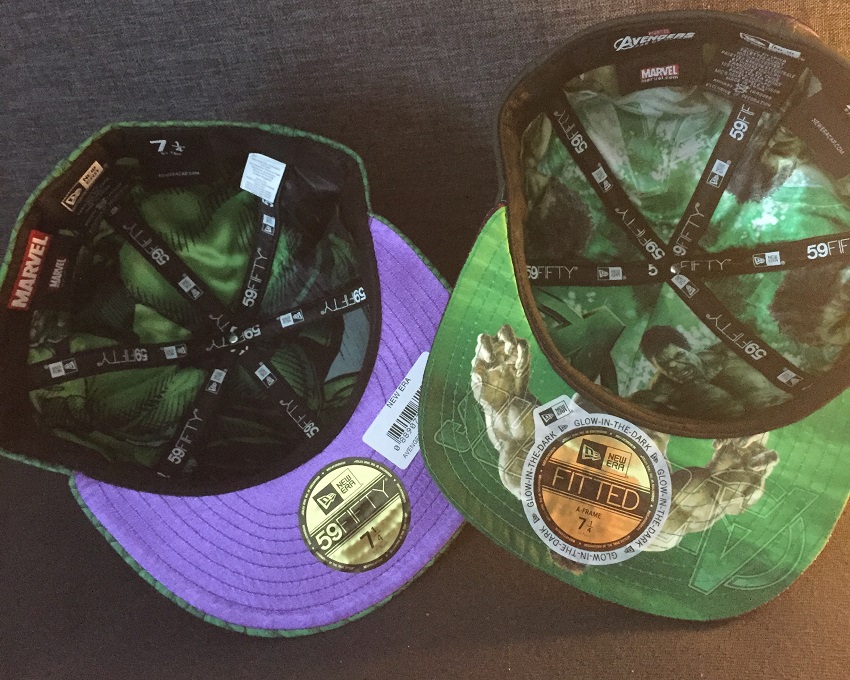 Bei der Innenseite und dem Schirm dürft ihr euch nicht täuschen lassen, denn hier befindet sich der US Release auf der rechten und der europäische auf der linken Seite. Bei dem US Release bekommt ihr detalierte Fotoprints von Hulk und das Avengers Logo auf der Schirmunterseite, sowie im Innenleben, während ihr eine lilane Schirmunterseite und Andeutungen von Fotoprints bei dem EU Release findet.
Ich bin wirklich begeistert von dem US Release und leider schlägt es die EU Variante in meinen Augen um weiten. Ich bin trotzdem Froh, beide Modelle in meiner Sammlung zu haben. Tragen werde ich im Kino aber ganz klar das A-Frame Cap.
Was die limtiertheit und exklusivität angeht, gewinnt jedoch die europäische Version (gekauft bei The Good Will Out) von Hulk zum Marvel Film The Avengers 2: Age of Ultron.