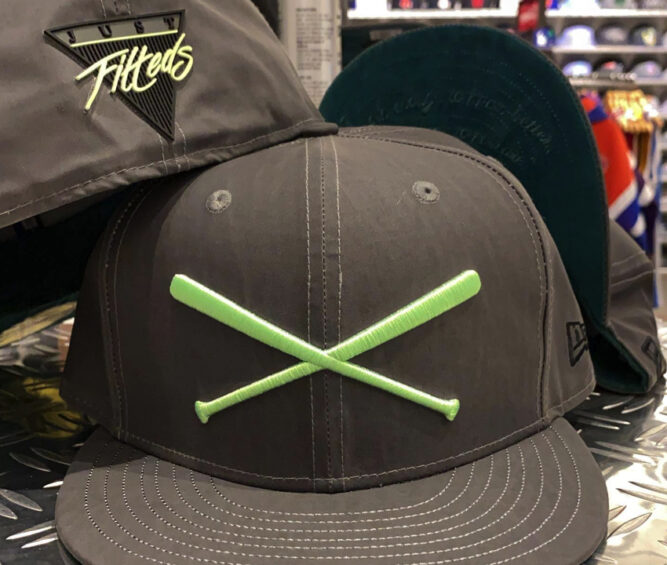 heute hat Christian aus dem Justfitteds Store in Berlin Geburtstag und anlässlich seines Ehrentages, hat er es sich nicht nehmen lassen, eine neue limitierte Crossed Bats Cap zu designen. Bei diesem auf 144 Stück limitierten New Era Cap hat er sich nicht lumpen lassen, denn er hat weltweit zum ersten mal Heatreactive Material auf ein 59Fifty Cap gebracht. Das Material verfärbt sich bei Hitze. Bei kalten Temperaturen ist es ein dunkles Graphite, aber bei höheren Temperaturen wird es sehr hell. Ein toller Effekt, der das Cap zu etwas ganz besonderem macht. Auf der Rückseite, hat das Cap, wie auch im letzten Jahr den Justfitteds Rubberpatch, der an das Jordan Flight Logo angelegt ist. Auf der grünen Suede Schirmunterseite gibt es Ton in Ton den Schriftzug "Ihm old enough to do better, young enough to not care". Das Cap ist ein Berlin Exclusive Release, dass heisst, dass ihr das Cap ausnahmsweise mal nicht auch in der Feldstraße in Hamburg, sondern ausschließlich in der Rochstraße 18 in Berlin bekommt.
Für alle die aber keine Möglichkeit hatten nach Berlin zu kommen, gab es auch den Online-Drop um 18 Uhr auf www.justfitteds.com. Dort gingen die Größen 7-8 Online. Wenn ihr Online kein Cap mehr bekommen habt, gibt es ggf. aber durchaus noch die Möglichkeit eins der Caps zu bekommen, denn es bedeutet nicht zwangsläufig, dass die Caps dann auch In-Store schon vergriffen sind. Es lohnt sich also dem Store in Berlin einen Besuch abzustatten oder ein Mitglied unser Capaddicts Community um Hilfe zu bitten, denn Erfahrungsgemäß, gibt hier für den obligatorischen Ninja Döner immer jemanden, der gerne bereit ist zu helfen.
An dieser Stelle wünsche ich Christian noch mal alles Gute zum Geburtstag.