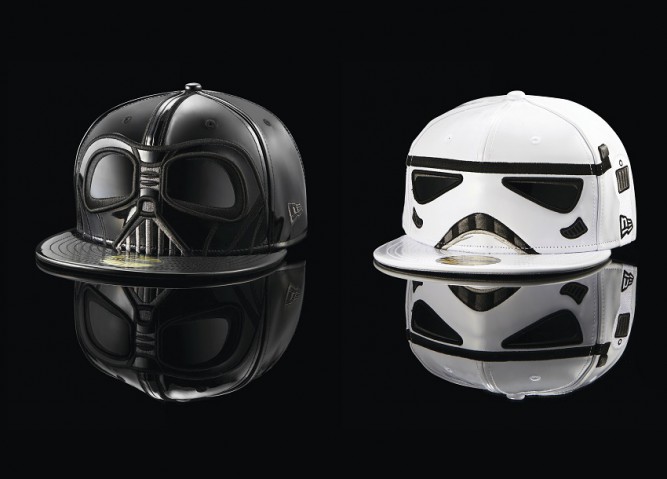 Wir haben euch ja bereits mit ein paar Infos versorgt und im folgenden findet ihr nun den offiziellen Pressbericht zu der kommenden Star Wars Reihe. Offene Fragen werden geklärt und einiges bestätigt was wir schon vermutet haben, das ein oder andere Detail war uns aber bisher unbekannt.
München (April 2015) – Der 4. Mai ("May the 4th be with you") ist für viele Star Wars Anhänger ein Feiertag. Auch die amerikanische Kultmarke New Era zelebriert den inoffiziellen "Star Wars Day" und bringt pünktlich zu diesem Datum eine streng limitierte Kollektion der zwei bekannten Figuren Darth Vader und Stormtrooper in den Handel. Nur je 144 Caps werden europaweit erhältlich sein,
u.a. bei Colette (Frankreich), Holypopstore (Italien), Selfridges (Großbritannien), Sneakers & Co (Spanien). In Deutschland bieten Solebox (Berlin), Just Fitteds (Hamburg), 43Einhalb (Fulda), The Good Will Out (Köln) und Afew (Düsseldorf) die Edition an – jeweils limitiert auf 16 Caps pro Shop (vier Caps pro Style).
Als Inspiration für die Designs der Kollektion dienten New Era die weltweit bekannten Masken von Darth Vader und den Elitesoldaten des Galaktischen Imperiums, den Stormtrooper. Das Kultmodell 59FIFTY präsentiert sich in zwei Kunstleder-Versionen mit detailgenauen Stickereien, welche die Komplexität der Masken widerspiegeln. Das metallisch glänzende Schwarz von Darth Vaders
charakteristischem Helm steht dabei in starkem Kontrast zum anonymen Weiß der Stormtrooper-Rüstungen. Beide Styles verfügen außerdem über ein Satin-Futter auf der Innenseite mit einem Print der Original-Figuren.
Vervollständigt wird die limitierte Edition von zwei zusätzlichen 9FIFTY Snapback-Modellen in schwarz und weiß mit einer Stickerei des ikonischen Star Wars Schriftzugs. Die 59FIFTY Modelle werden für 50,- Euro/Cap, die 9FIFTY Modelle für 35,- Euro/Cap in den
genannten Shops sowie den New Era Flagship Stores und auf www.neweracap.eu erhältlich sein.
Für Juni ist eine zweite Kollektion mit weiteren Star Wars Charakteren geplant.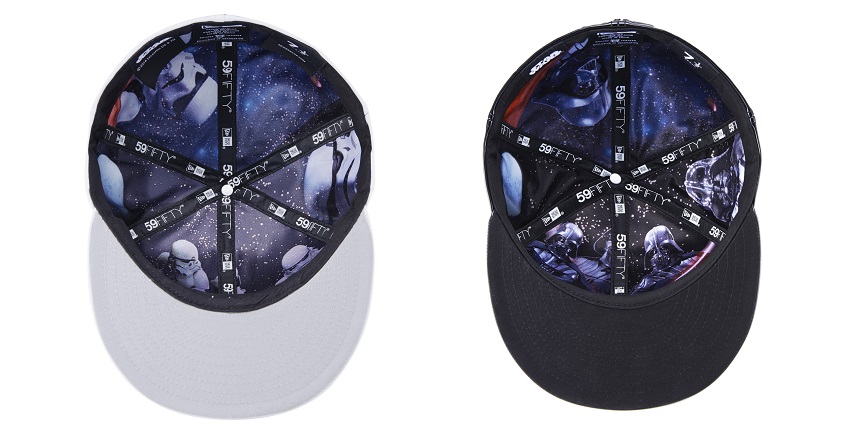 Es gibt also 9 bekannte Shops die jeweils 4 Caps pro Modell erhalten! Wir gehen mal davon aus, dass die New Era Stores Berlin, Paris und London, Birmingham und Frankfurt auch ein paar Modelle bekommen werden und vielleicht auch mehr als nur 4 Caps pro Style bekommen werden. Außerdem heißt es im Pressebericht, das die auf 144 Stück limitierten Caps nun auch Online erhältlich sein sollen. Anfangs sind wir sogar von einer kleineren Auflage aufgrund möglicher Restbestandsverkäufe ausgegangen, aber es scheint sich nun um eine Eigenständige Kollektion zu handeln, die sich meiner Meinung nach wirklich sehen lassen kann. Das die Reihe in 2 Releases unterteilt sein wird, wird den einen oder anderen sicherlich nicht stören, da man nicht gleich 200€ auf einen Schlag blechen muss.
Wenn wir mehr wissen, mehr Bilder haben etc… wir lassen es euch wissen.
Möge die Macht mit dir sein