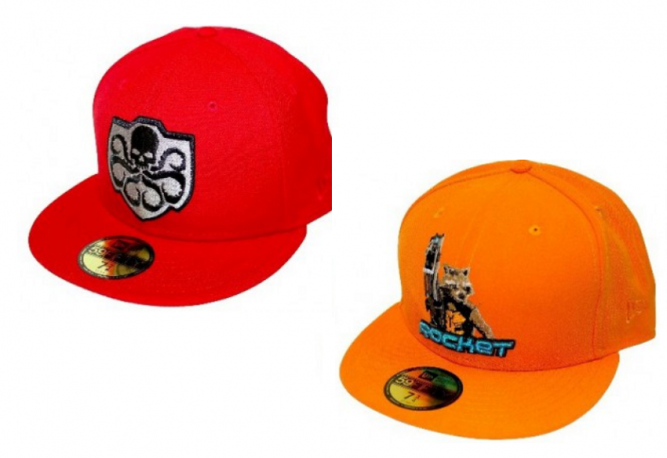 Die fiktive faschistische Terrororganisation Hydra ist jedem Marvelfan ein Begriff und auch Neueinsteiger kennen diese inzwischen aus den Marvel Cinematic Universe Filmen (Captain America, Avengers usw). Außerhalb der erschienenen Capserien zu Captain America 1 und 2 gab es bisher leider nahezu keine Caps von besagter Organisation. Das ändert sich nun mit diesem shopexklusiven Fitted. Es ist einheitlich rot gehalten mit hellgrau-schwarzem Hydra-Emblem auf der Vorderseite und schwarzem Hail Hydra Stick (zu Deutsch Heil Hydra; klassische Floskel innerhalb Hydras) auf der Rückseite.
Ähnlich überschaubar verhält es sich mit Caps zu Marvel's Guardians of the Galaxy. Umso gelungener ist das jetzt exklusiv veröffentliche Fitted vom Guardians of the Galaxy Mitglied Rocket Raccoon, von dem im vergangenen Sommer zum Filmrelease bereits ein Big Face Fitted erhältlich war. In Anlehnung an seine Kleidung im Film ist das Cap einheitlich orange mit Rocket selbst + kleinem hellblauen Namensschriftzug auf der Vorderseite und hellblauem Guardians of the Galaxy Schriftzug auf der Rückseite.
Beide Fitteds sind sehr gelungen und exklusiv bei Threads for Heads zu kaufen.